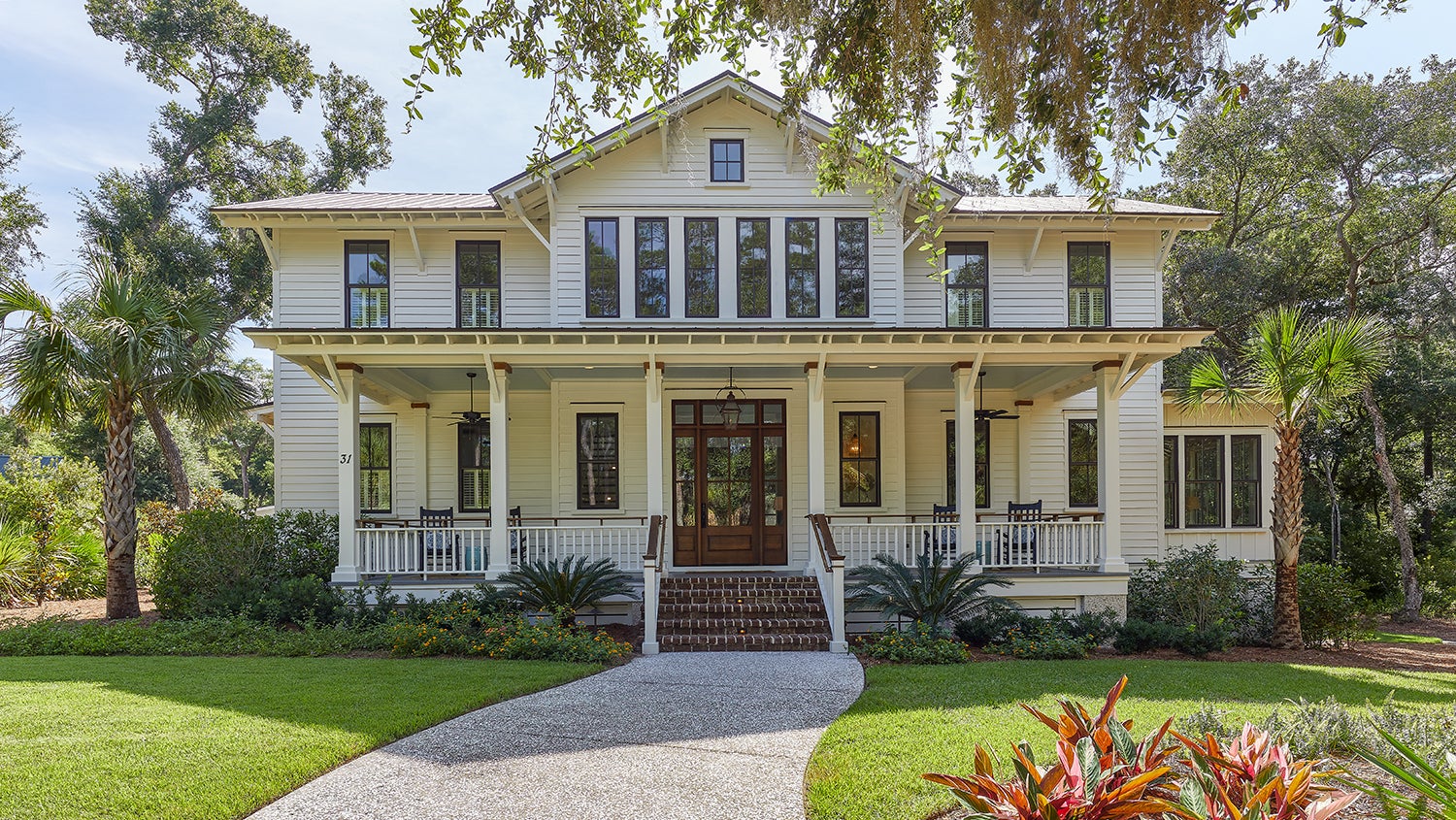 Read the full article in the Richmond BizSense here. Join the VIP List for The Blufftons here.
From Richmond BizSense, Jonathan Spiers
The evolution of West Creek from a corporate business park to a community with a mix of uses continues, with a residential subdivision lined up that's set to add a touch of South Carolina's Lowcountry.
Eagle Construction of VA has started site work for the Blufftons, a 29-home subdivision with half-acre lots on land across West Creek Parkway from Performance Food Group's headquarters.
The site is just inside the business park's main Patterson Avenue entrance between PFG and Huguenot Hills, an older subdivision off Patterson that's outside West Creek's boundaries.
Featuring home styles inspired by Palmetto Bluff, a community near Hilton Head Island, the Blufftons would be the first single-family subdivision in West Creek's southern end. It would add to single-family neighborhoods that make up parts of the 200-acre Mosaic at West Creek that HHHunt Communities is developing farther north.
Eagle President Josh Goldschmidt said the Blufftons is also driven by The Pruitt Cos.' mixed-use development taking shape nearby at the site of the former Oak Hill Golf Course.

"That opportunity, as far as a location goes, is unbelievable," Goldschmidt said. "They're going to have restaurant, retail, office, and this is going to have adjacency to that. We think they'll put in high-quality stuff."
Goldschmidt said Eagle has been working on the project for over a year with the Pruitts, who own and operate West Creek with Bill Goodwin's Riverstone Group.
"The Pruitts have always done high-quality development, so for us to do something with them was a great opportunity," he said.
With its larger lot sizes and higher price points, Goldschmidt likened the Blufftons to Riverstone's Tuckahoe Creek, a 47-home community with 1-acre lots across Tuckahoe Creek Parkway from Kinloch. He said homes in the Blufftons will be priced upwards of $1 million.
Goldschmidt said the homes' designs were taken from a trip that he and Thomas Pruitt took to Palmetto Bluff, just north of Savannah, Georgia. Allison Ramsey Architects, a firm based in Beaufort, South Carolina, is designing the homes, which will range from three to five bedrooms and 2,800 to 4,400 square feet in size.
"The idea we had talked about was something a little bit different, and we spent quite a bit of time to get to that," Goldschmidt said. "We think we're going to deliver something a little different than what the market has seen a ton of."
Eagle purchased the land involved in a multiparcel deal that closed Sept. 13. Goochland County property records, which did not specify the acreage of the lots in an online database, showed the company paid a total of $4.1 million. The 24 parcels involved are assessed by the county at $942,200 combined.

Goldschmidt said Eagle will begin to compile a list of interested buyers over the holidays, with sales opening in the first quarter of next year.
The Blufftons add to an increasing workload for Eagle around the Goochland-Henrico line. The company, which recently relocated its headquarters to Patterson Avenue about a mile east, also is behind Readers Branch, a 308-home subdivision along Hockett Road in Goochland, just beyond West Creek's northwestern edge.
Eagle also is planning a Georgia-inspired community near Short Pump called Avenlea, proposed to total 1,600 homes with a mixed-use component on 183 acres northwest of Gayton Road and Interstate 64. That project had been set to go before the Henrico County Planning Commission in recent months but was deferred twice.
Goldschmidt said the deferrals were requested in order to hold an in-person community meeting on the project. That meeting is scheduled to be held Dec. 7 at 6:30 p.m. at Twin Hickory Library.