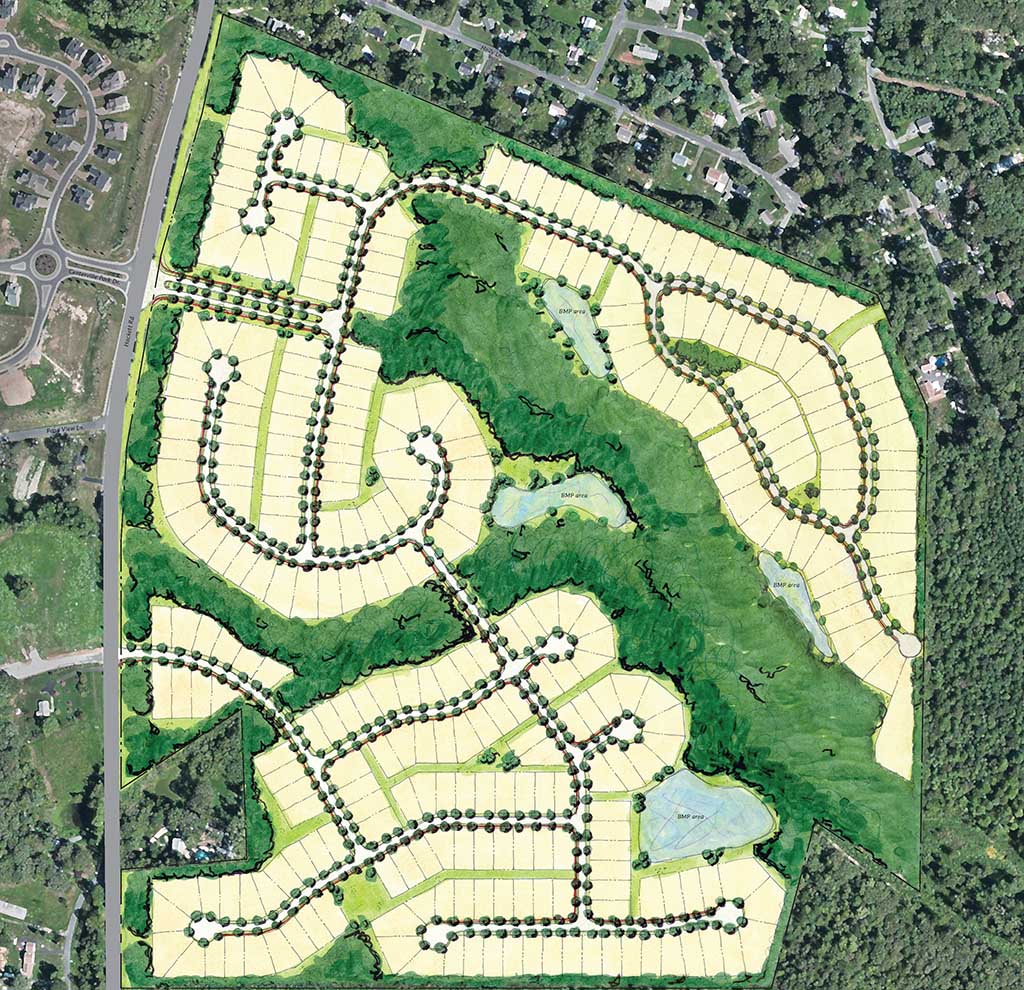 Read the full article on Richmond BizSense
here
.
A soon-to-be burgeoning Goochland County corridor is slated to get hundreds more homes.
County supervisors voted unanimously Tuesday to approve Readers Branch, a 303-home subdivision by Eagle Construction of VA planned along Hockett Road, just south of Broad Street Road and west of State Route 288.
The 153-acre subdivision will consist of single-family detached houses, five less than the 308 first proposed last fall. The reduction made way for an expanded set of amenities that, along with agreed-upon cash proffer payments, helped the project achieve the county's support.
"We are excited by the board's decision and their positive vote to move the Readers Branch development forward," said Ricky Core, a principal with parent company Markel | Eagle Partners. "We've worked long and hard over the past six months to refine our development plan, and we are very excited about where we've ended up."
Supervisors had deferred the case from December, giving Eagle and county staff time to negotiate additional amenities that include a minimum 2,000-square-foot clubhouse, a 1,000-square-foot community patio, three pocket parks and wildlife overlooks.
The time was also spent adjusting the project's cash proffer amounts – payments made to the county to offset impacts to public services. The county recently revised its cash proffer policy to reflect changes in state law restricting how localities can accept the one-time payments from developers.
As a result, Eagle's proffers for Readers Branch were increased from the previously proposed $1,585 per home to $12,592 per home, totaling upwards of $3.81 million.
"It's been a collaborative and cooperative process," said Eagle's Nathalie Croft, a land development planner who served as the lead on Readers Branch. "We really took staff's comments to heart and they encouraged us, and given the deferral time, we really used that time to make this a better project."
Croft noted the amenities include multipurpose fields and smaller game lawns, envisioned for activities such as sports, yoga groups and birthday parties.
Homes are planned to range from 2,200 to 2,900 square feet, with three or more bedrooms and two to three bathrooms. Prices will start in the low $400,000s.
Core said construction would start in the second half of this year and progress according to sales. He said an overall development cost has not been determined.
The 153-acre site consists of three parcels that were rezoned to accommodate the project. A 94-acre parcel at 1515 Hockett Road was purchased last April for $8.1 million, according to county records. A 59-acre parcel was purchased the following month for $2.1 million, and a smaller third parcel was bought in June for $70,000.
The site is on the east side of Hockett Road, which runs parallel to Route 288 to the east. It's also about a mile north of Capital One's West Creek campus, where fellow builder-developer HHHunt received approval last month for a 520-home age-restricted community.
As with that project, residents at community meetings and public hearings for Readers Branch expressed concerns about the influx of homes and their impact on Hockett, which several longtime residents said they do not want to see expanded from two to four lanes.
For Readers Branch, Eagle has proffered traffic improvements along Hockett to include designated right- and left-turn lanes at its two entrances, one of which would align with the Park at Centerville subdivision across the street.
A 100-foot landscaping buffer will be maintained along Hockett and will include a hard-surface multiuse trail. Eagle also agreed to provide a stub road at the south end of the property for a future connection.
While Tuesday's approval brings an end to a six-month review process for Eagle, the company has another rezoning request set to go before the county, for a fourth section to its Parkside Village community near Wyndham.
That request, which would add 65 age-restricted detached homes to the development, is the topic of a community meeting scheduled April 23 at the Centerville fire and rescue station at 52 Broad Street Road. The request would go before the county planning commission at a later date.