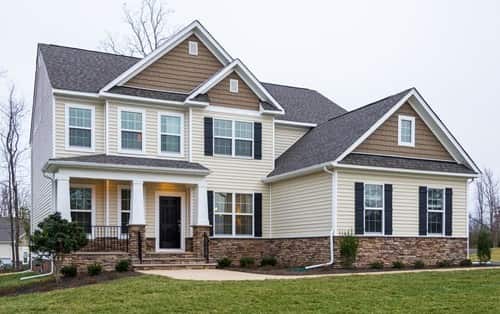 When Peter Valiante and his husband, Jimmy Bryant, went house hunting four years ago, they didn't travel far. They had outgrown their Midlothian town home, but they didn't want to leave the area.
"My husband and I have called this area of Midlothian home for the last seven years," Valiante said. "We wanted to stay close to the amenities we have come to know and love. My son was 11 at the time, so remaining in the same school district was important to us as well."
They soon focused on Queensgate, a relatively small development that was in the early stages of construction near the intersection of Coalfield and Queensgate roads. The community, developed by Richmond-based Riverstone Properties LLC and built by Eagle Construction of Virginia, offered ½-acre lots and customizable floor plans. And it allowed Valiante's son, Colby, to stay in the same school district.
Valiante and Bryant bought a Queensgate lot in April 2013, and they moved into their new, 3,200-square-foot, Arts and Crafts-style house five months later.
"It has modern and traditional elements, which suits our style," Valiante said. "An open floor plan was important to us, and being able to finish the attic to create additional living space was the icing on the cake."
Valiante and Bryant's decision to stay in the area isn't unusual among Queensgate's homebuyers.
"Nine out of 10 of my prospects come from with a 10-mile radius because they love this area and want to stay here," said Ashley Smoral, Eagle's site agent for Queensgate. "It's a fantastic location, with dining and shopping nearby, and it's an easy commute to Short Pump and downtown Richmond."
Architectural styles in Queensgate include Craftsman, Colonial and European. Sizes for the development's homes range from 2,600 to more than 3,300 square feet. Prices range from the low $340,000s to the low $400,000s.
With construction on 73 of the community's 75 homes finished, the development is nearly built out.
That's a significant change from when Valiante and Bryant bought their house. Back then, the neighborhood only had approximately 10 homes. So they've witnessed the development's transformation into a community.
"One of the benefits to watching the neighborhood grow is the opportunity to meet incoming families early on," Valiante said. "Many of us moved into our homes within just a few months of each other, so we got to know each other throughout the process and develop friendships."
Even now, the community is small enough for neighbors to gather for community-wide block parties and social events throughout the year.
"There is a true sense of friendship and heart in our neighborhood, and you don't find that everywhere," Valiante said. "Moving to Queensgate was the perfect choice for our family."