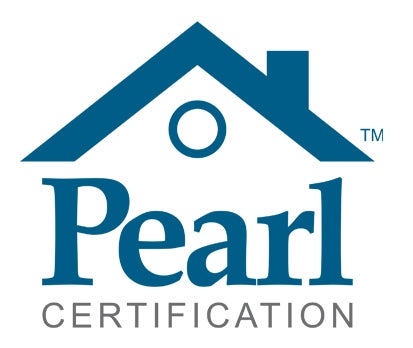 Pearl Certification is proud to announce that Eagle Construction has been accepted into the prestigious Builder Advantage Program. Working with an elite network of highly-skilled builders, contractors, agents, and brokers as well as savvy homeowners who prioritize health, energy-efficiency, and low home operating costs, Pearl-certified homes command a 5% sales price premium.
"Only a small number of elite home builders, with a record of high quality work and customer service, are accepted into the program," said Pearl COO Cynthia Adams. "Eagle Construction is a perfect fit, and we're delighted to work with them to help consumers capture the full value of their efficient homes."
With 135 communities and over 5,000 homes built from Central Virginia to the Hampton Roads Area, Eagle Construction is committed to excellence. Eagle takes pride in building homes that are not only personalized to the homeowner, but are also comfortable and environmentally conscious.
"A lot of people have energy efficiency and green building programs, but we believe in the third-party verification of every single one of our homes," said President of Eagle Construction, Josh Goldschmidt. "Pearl has the foresight to complete the loop of individual home certification and providing documentation of the value that we add to our customer's homes. We are proud to work with Pearl to help homeowners maximize their high-performing home's value over the lifetime of their homeownership."
Pearl Certification was founded by energy efficiency and residential construction experts with a goal of a developing a simple way to help homeowners make their homes more comfortable, healthy, and energy efficient. Pearl also works closely with real estate agents and appraisers so that energy efficiency improvements are visible at the time of sale and add value to the home.
"We're proud to work closely with Pearl Certification and Eagle Construction as their exclusive certification service provider, collecting data on homes' efficiency ratings and doing the performance testing which documents a well-built home," said Matthew Cooper, Senior VP of PEG. "With Eagle's commitment to quality building and Pearl's unique certification system, we believe this partnership is vital to the region and the industry, as more and more homeowners seek certified, cost-saving, energy efficient homes."
Eagle Construction now provides each homebuyer with a Pearl Certification Report detailing their home's high-performing features. The partnership between Pearl and Eagle Construction is one that will bring Virginia's Richmond, Williamsburg, and Hampton Roads regions healthy, comfortable and energy-saving homes for years to come.
Pearl Certification is a national firm that provides third-party certification of high-performing homes: homes with "performance assets" that make them healthy, safe, comfortable, energy and water efficient. For more information, visit https://pearlcertification.com/.
Eagle Construction is a homebuilder committed to exceptional quality and high performance with 135 communities and over 5,000 homes built from Central Virginia to the Hampton Roads Area. For more information, visit https://www.eagleofva.com.
PEG is an engineering and environmental consulting firm that provides engineering design, Building Information Modeling, and third-party program implementation for programs such as ENERGY STAR®. PEG has been a participant in the ENERGY STAR Certified Homes program for more than eight years and has been an advocate for the program. For more information, visit http://www.pegenv.com/.